Samsung has been one of the leading lights in the arrival of smartphones with foldable displays, and that's set to continue with the Samsung Galaxy Z Fold 4.
Announced at Samsung's August 2022 Unpacked event alongside the Galaxy Z Fold 3, Galaxy Watch 5 & 5 Pro and Galaxy Buds 2 Pro, Samsung's big-screen foldable is back with a host of improvements that not only make it more durable, but more in-line with standard 2022 flagships.



Has Samsung finally cracked the foldable code? Here's everything there is to know about the Samsung Galaxy Z Fold 4, from release date and pricing to the top new features of the big-screen foldable.
When was the Samsung Galaxy Z Fold 4 released?
The Samsung Galaxy Z Fold 4 was revealed at Samsung's Unpacked 2022 event on 10 August 2022. It went up for pre-order immediately after, and the release followed on 26 August 2022.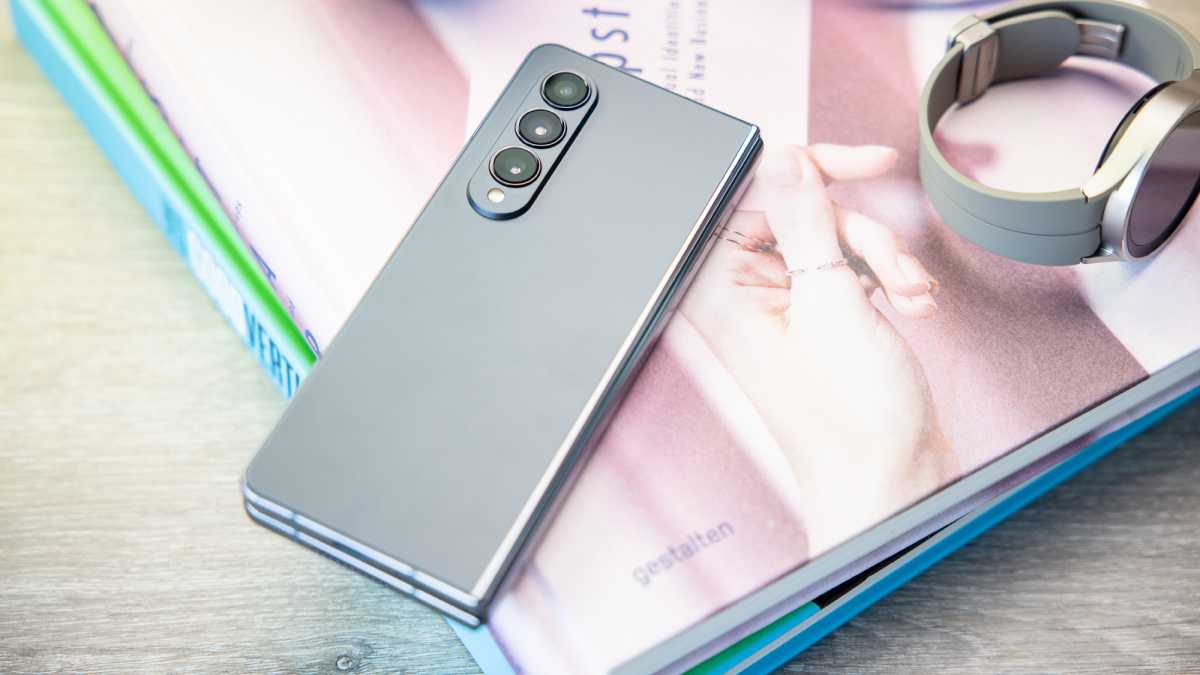 How much does the Samsung Galaxy Z Fold 4 cost?
Pricing has been somewhat moveable when it comes to foldables. Most started out at eye-watering amounts due to the incredibly cutting edge technology needed to make a folding screen possible.
As techniques have been improved and processes refined, this has seen a drop in the end-cost for consumers. Of course, these are still premium devices, and come with prices commensurate to this status, but there has been a steady decline – until this year, that is.
While last year's Samsung Galaxy Z Fold 3 started at $1,799/£1,599, down from the $1,999/£1,799 of the Z Fold 2, this year's Galaxy Z Fold 4 sees an increase in price. It's not a major amount – just £50 in the UK, largely due to inflation – but it is a disappointment for those hoping to see the Galaxy Z Fold 4's downward trend in price continue with the latest iteration.
Here's how much the Samsung Galaxy Z Fold 4 costs:
Samsung Galaxy Z Fold 4 (256GB): $1,799.99/£1,649/€1,799/₹154,999

Samsung Galaxy Z Fold 4 (512GB): $2,009.98/£1,769/€1,919/₹164,999

Samsung Galaxy Z Fold 4 (1TB): $2,249.98/£2,019/€2,159/₹184,999
If you're tempted by the premium foldable, you can buy the Galaxy Z Fold 4 from Samsung directly alongside third-party retailers like Amazon and Best Buy in the US, and Amazon in the UK.
We cover where to buy the Samsung Galaxy Z Fold 4 in more detail separately for those interested.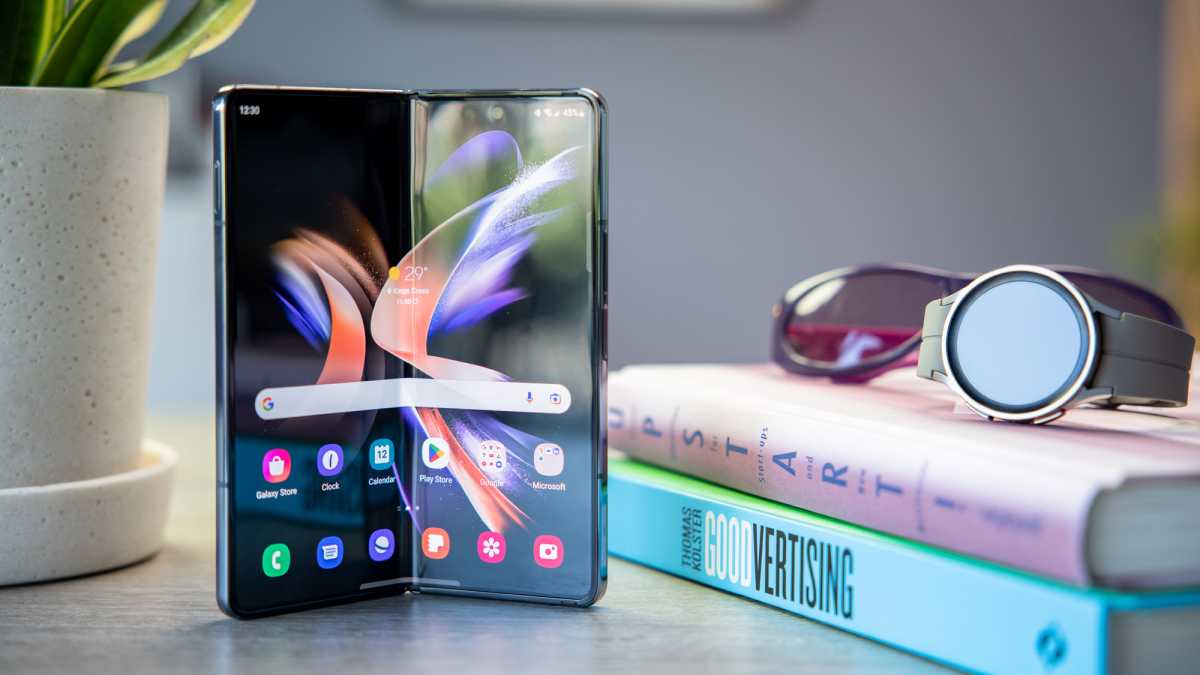 What's new with the Samsung Galaxy Z Fold 4?
Much like the Samsung Galaxy Z Flip 4, the Z Fold 4 is more of a refinement than a redesign, sporting the same overall premium, sleek design as its predecessor with key improvements to its design and overall durability.
Design & durability
The Galaxy Z Fold 4 is 3.1mm shorter and 3mm wider, and while that doesn't sound like much, the phone feels nicer in the hand and less boxy than the Z Fold 3 – both in its folded and unfolded configurations. In fact, Samsung claims this should help minimise black bars when watching content on the bigger inner screen.
Tweaked dimensions aside, the outer display remains largely unchanged, sporting the same tall 6.2in 120Hz display, with the outer display and rear both clad in Corning's Gorilla Glass Victus+ to help protect against scratches and drops. That's paired with Samsung's Armour Aluminium frame that the company claims is more durable than ever, and it's still just as water-resistant at IPX8 – a rarity among foldable.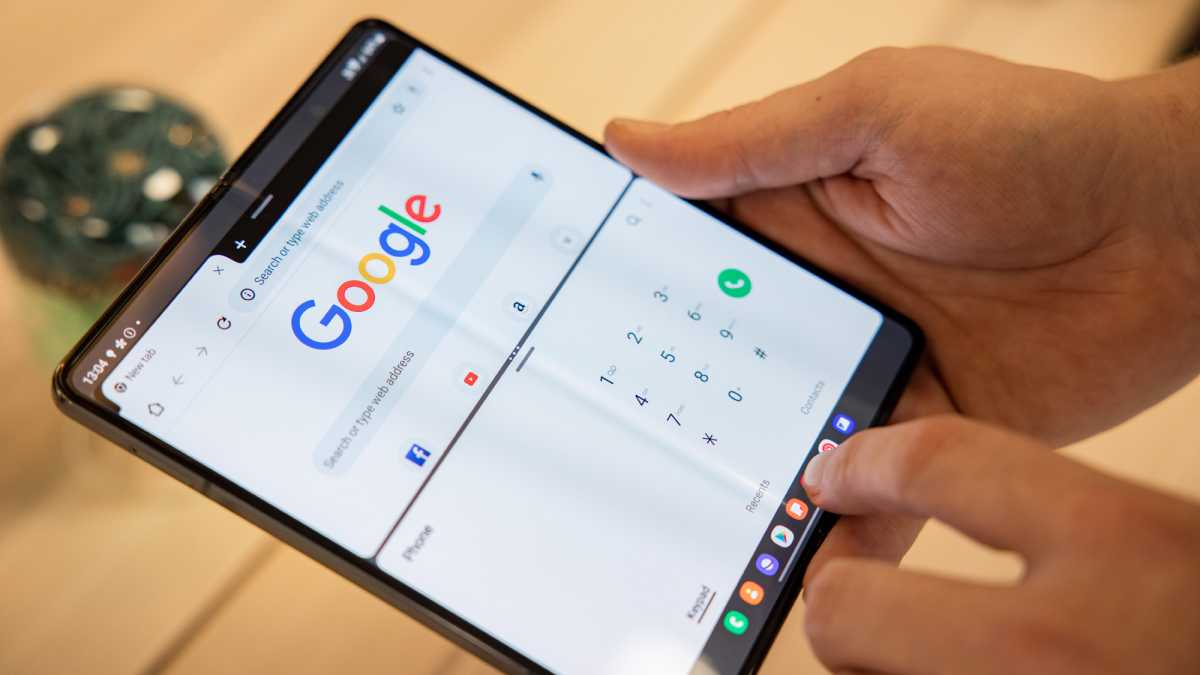 The focus on durability has extended to the inner foldable 7.6in 120Hz display – arguably the more problematic of the phone's two displays. Samsung claims that the Z Fold 4 can withstand an impressive 200,000 folds (around 547 folds per day for a year), which should help alleviate some fears about long-term use of the foldable.
Cameras
The 4Mp f/1.8 under-display camera has made a return once again, and while the camera quality still isn't up to scratch compared to standard selfie cameras, it is a little harder to see this time around.
The real camera improvements are on the rear. It sports the same OIS-equipped 50Mp camera as the flagship Samsung Galaxy S22, offering a huge improvement over last year's paltry 12Mp offering. Samsung says that the larger sensor can let in 23% more light, which when combined with the nightography visual processor, NPU and ISP should bring notable improvements to low-light photography.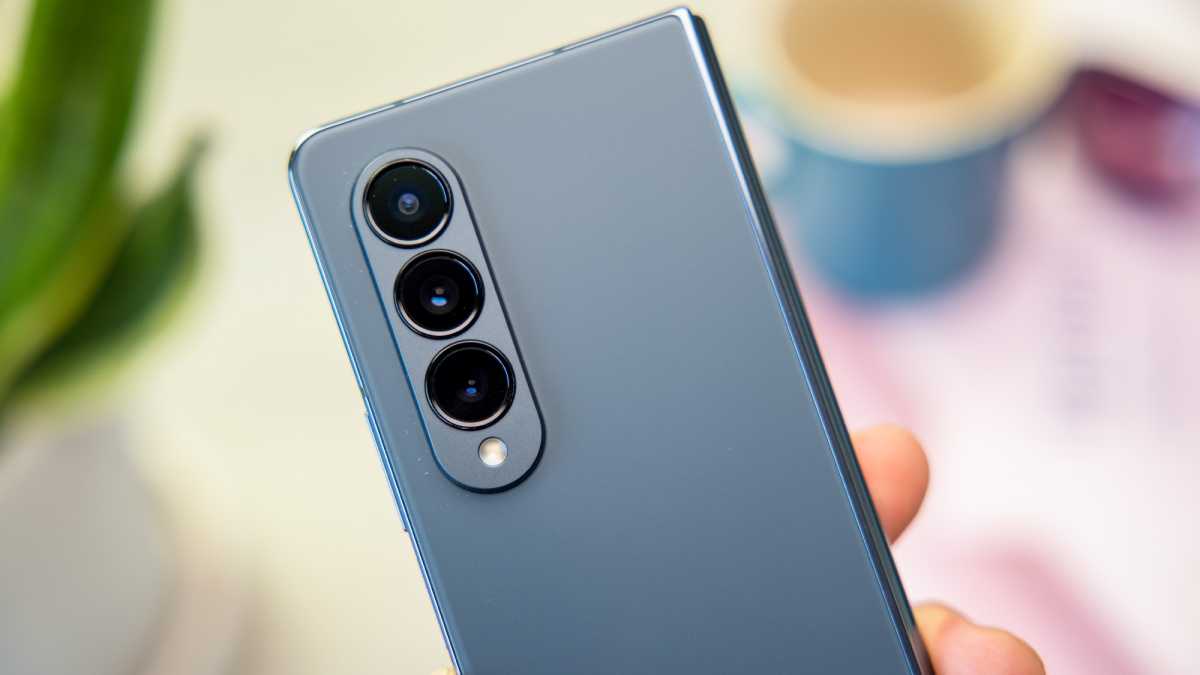 That's paired with the same 12Mp ultrawide lens as the Z Fold 3, along with a totally new 10Mp 3x optical lens capable of 30x Space Zoom. It's not quite as advanced as that on flagships, but it's impressive to see on a foldable when you consider the small dimensions Samsung is working with.



The inclusion of VDIS (Video Digital Image Stabilisation) means videos should be smoother than ever, even in low-light, and it's one of the first foldables to boast 8K video recording capabilities too.
The camera offering on the front selfie camera remains unchanged, sporting the same 19Mp f/2.2 snapper as last year's model.
Performance
At the heart of the Samsung Galaxy Z Fold 4 you'll find Qualcomm's latest Snapdragon 8+ Gen 1 processor that should provide flagship-level performance. It's still one of few phones to sport the new processor, bringing with it benefits like support for Qualcomm's updated lossless audio codec and more.
While the Z Fold 4 sports the same 4,400mAh battery as its predecessor, there's faster 25W charging available that'll provide 50% of charge in just 30 minutes. It's still a long way from the lofty heights set by the likes of Oppo and Xiaomi, but it's now more in line with the rest of Samsung's smartphone collection.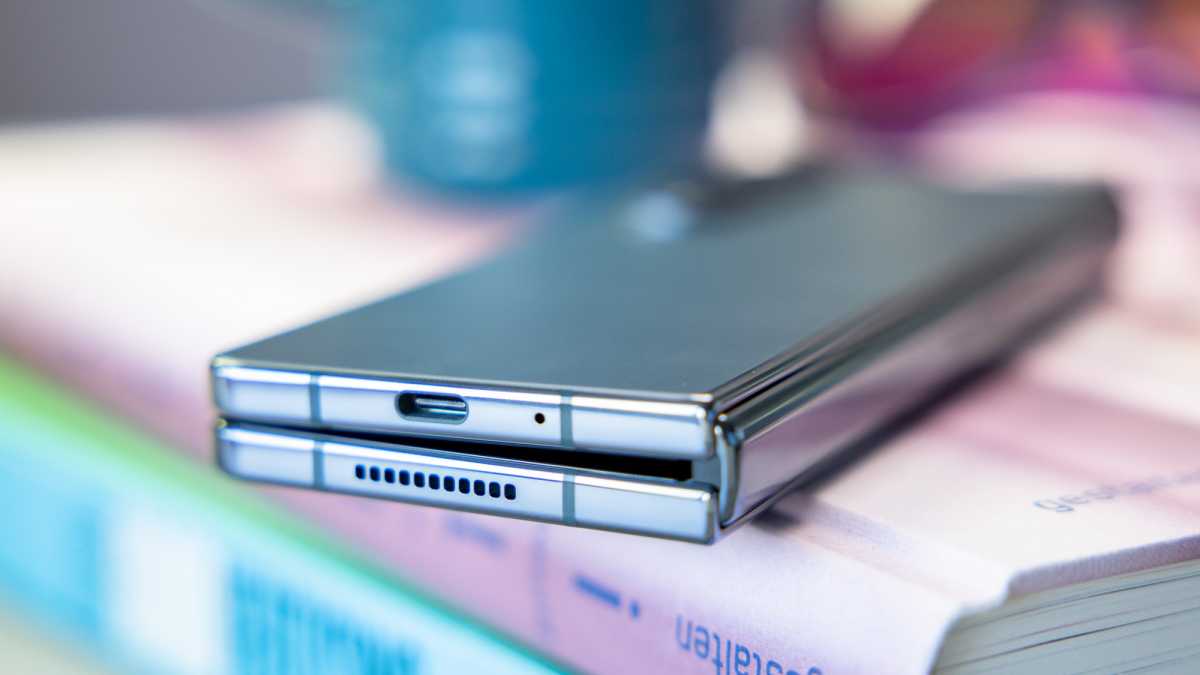 Software
The Samsung Galaxy Z Fold 4 is the first foldable to run Google's tablet-focused Android 12L with Samsung's OneUI applied on top, and there are significant improvements on offer that further improve the foldable experience.
The first, and arguably biggest, addition is a PC-like taskbar (though it looks just like that on iPadOS, but hey!) that appears at the bottom of the screen when you're using apps on the larger inner display. It's auto-populated by apps you use frequently, which isn't only great for quick access, but with a drag-and-drop of the icon you can activate split-screen functionality.
The taskbar will also remember split-screen groups, so you can tap one icon to open the two or three apps you use side-by-side.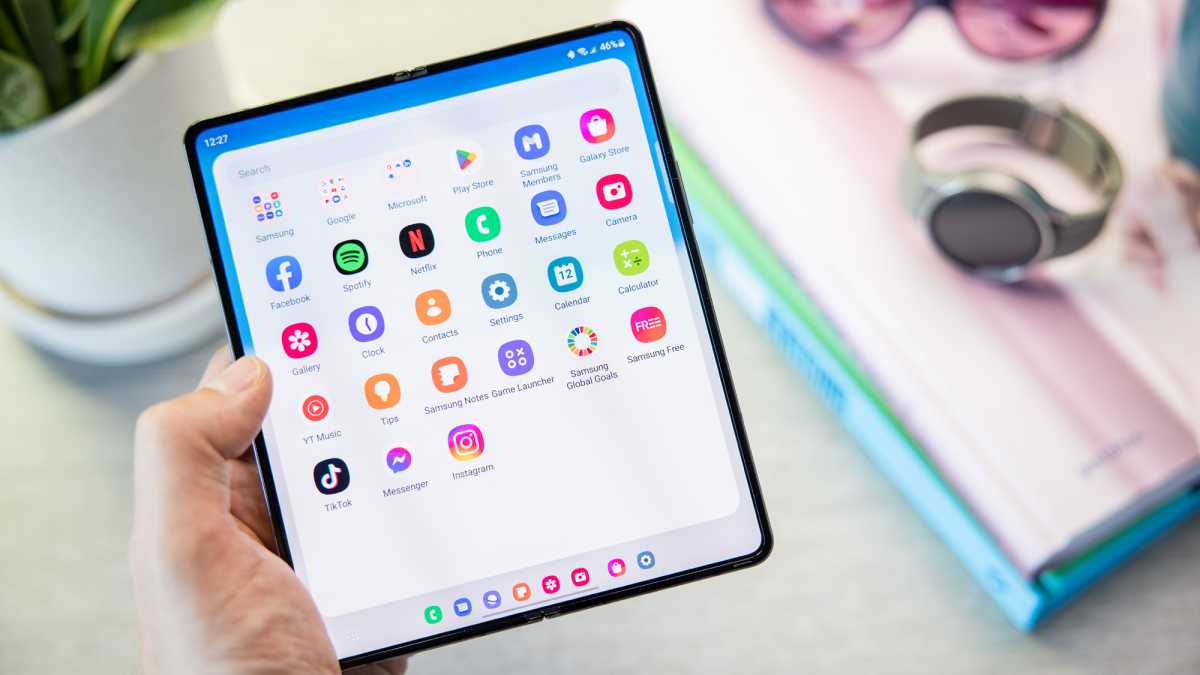 There are also improvements to the Flex mode functionality to help more popular apps take advantage of the Z Fold 4's foldable nature. It offers support for big-name apps including Netflix, Google Drive, Google Meet, Microsoft Teams and more, with apps not natively supported also receiving improved support.
Stands out. Stands up. Unfolds
Does a lot in one hand with its 15.73cm (6.2″) Cover Screen. In both hands, the 19.21cm (7.6″) Main Screen makes it your ultimate do-more device. And when you need to go hands-free, simply set it down, find a good angle and leave it there while you get more done.
*Image simulated for illustrative purposes. Actual UI may be different.

*Netflix streaming membership required.
SIZE & WEIGHT
It's basically two phones in one — with nearly the weight of a less-flexible phone. Slimmed down everywhere but the screen, minimized bezels and lightweight materials make this Fold even more pocket-friendly.




COLOURS
The elegant combination of a unique form factor with naturally classic hues turns heads with every unfold. Select from Graygreen, Phantom Black or Beige.
MULTITASKING
Wipe out tasks in fewer taps. Add apps to the Taskbar, your multitasking secret weapon, for quick navigation and bouncing between windows when you're in the groove. And with App Pair, one tap launches up to three apps, all sharing one super-productive screen.
MULTI VIEW
Whether toggling between texts or catching up on emails, take full advantage of the expansive Main Screen with Multi View. PC-like power in your pocket transforms apps optimized with One UI to give you menus and more in a glance.
*Image simulated for illustrative purposes. Actual UI may be different.

*Galaxy Z Fold4 requires the latest Microsoft Outlook (minimum version 4.2222.0.) for this feature.

*Screen layout adjustment availability may vary by app.

*Availability of feature may vary by country or region.
S PEN
Move past finger-to-screen and bring S Pen into the mix. Get natural precision with every stroke that feels as familiar as pen on paper.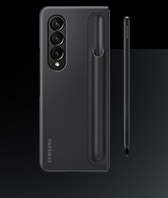 IMMERSIVE VIEW
Now you can really get into the zone. Pushed-back bezels plus an even more camouflaged Under Display Camera on a breathtaking 19.21cm (7.6″) Infinity Flex Display means there's more screen and no black dot getting between you and your favorite games.
120HZ DISPLAY
Swiping through the newsfeed or gliding through games, it all flows smoothly on a display that ramps up to 120Hz. This refreshingly responsive screen even adapts the refresh rate to optimize the view for you.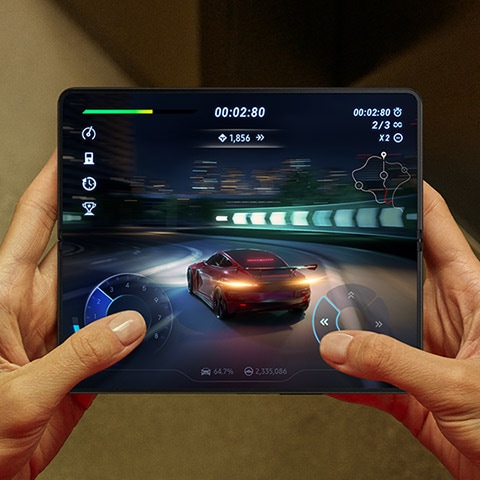 PARTNERSHIPS
Out of the box, Galaxy Z Fold4 comes with plenty of tools to get your gears moving. And when you add third-party apps optimized for Multi View, you'll be unlocking new levels of convenience with every tap.
EXTERIOR
From the inside out, Galaxy Z Fold4 is made with materials that are not only stunning, but stand up to life's bumps and fumbles. From the glass to the metal, these are the toughest Samsung Galaxy foldables ever.
Rough days are no match for our toughest foldables ever with exclusive Corning® Gorilla® Glass Victus®+. The Cover Screen and back cover are ready to resist sneaky scrapes and scratches with confidence.

This phone and its hinge are reinforced with our toughest aluminum frame. Appropriately named, Armor Aluminum acts like a suit of armor, protecting your folds from damage.

It's never been so strong. Foldable, limber and built to last, the unique composition of the Main Screen stands up to everyday wear and tear.
MULTI-CAMERA SYSTEM
With the upgraded Rear Camera, Space Zoom and Nightography, we're bringing a pro-level kit to the foldable form for the first time. Use the massive Main Screen as a viewfinder to flex your photo skills with new tech.

NIGHTOGRAPHY
When action-packed days turn to action-packed nights, details stay clear after dark. Advanced OIS and VDIS smooth out video while Super Night Solution limits noise — all for stunning low-light clips begging to be replayed.
HIGH RESOLUTION
With the 50MP Wide-angle Camera, even quick snaps are high-resolution masterpieces. Elevate depth and sharpness with Detail Enhancer, taking the best aspects of your shots and leaving blur behind.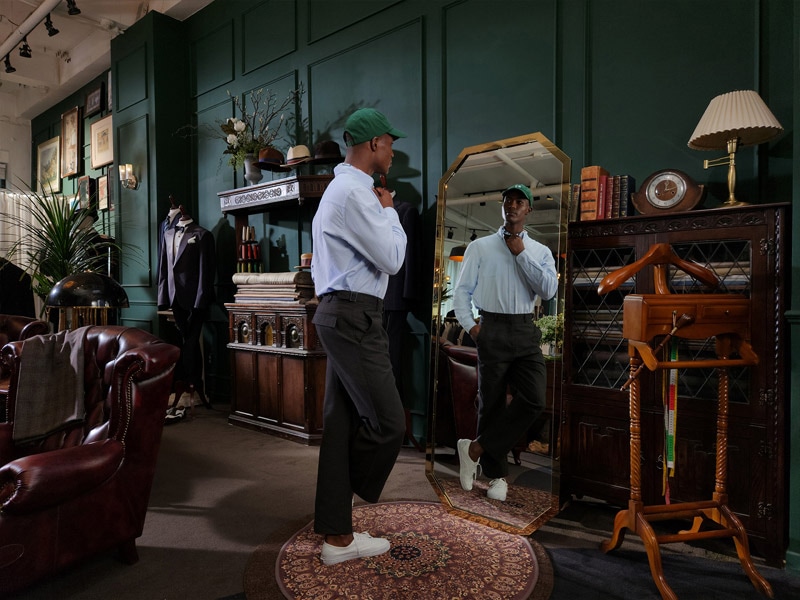 Camera Essentials
Dual Preview

Let your subject play creative director. The preview appears on the Cover Screen, giving them a chance to adjust and look their best before you snap.

Capture View

Like a photo monitor in your pocket, Capture View shows you previews of the photos you just took, so you can check and reshoot with ease.

Rear Cam Selfie

Bust out the selfies in high resolution. The Cover Screen acts as viewfinder, letting you capture your best side with the 50MP Wide Camera.

Expert RAW

Pro mode leaps to another level when you download Expert RAW. Take full control over your shots and save the RAW files right to your Gallery.

AI Edit

Now post-production takes place on your phone. Retouch photos with ease using Photo Remaster and remove the things you don't want with Object Eraser.
What makes Galaxy Z Fold4 different?
Galaxy Z Fold4 is lighter and more durable than its predecessor. It now boasts the fastest processor in the Samsung Galaxy Z Fold series. With even more apps optimized for its large, foldable screen, Galaxy Z Fold4 is your ultimate multitasking device.
How big is the Galaxy Z Fold4 screen?
Galaxy Z Fold4's Main Screen measures 192.1mm and its Cover Screen measures 157.3mm. When accounting for the rounded corners, the screens measure 188.6mm and 154.8mm respectively.
How is Galaxy Z Fold4 good for multitasking?
Galaxy Z Fold4 is great for multitasking. It allows you to split the screen to use up to three apps at once, even supporting drag and drop across apps. Quickly move between apps with the improved Taskbar, and see more of your favorite apps with Multi View.
To see what the Z Fold 4 is up against, read our guides to the best smartphones and best phones coming in 2022.